Generator Repairs, Service and Maintenance in Cedar Grove, NJ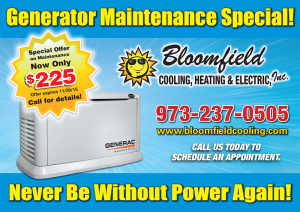 Making sure that your generator is routinely serviced is important. You never know when a power outage will occur and when it does, you'll want your stand-by generator operating to its full capacity. If you're living in Cedar Grove, NJ and are in need of servicing for the generator for your home, we can help. We offer routine generator maintenance checks, where we test the function of your stand-by generator and make sure its operating properly. We can carry out repairs to generator systems that are malfunctioning and, if required, we can provide a suitable replacement. Our technicians are experienced and certified when it comes to carrying out repairs and maintenance for generator systems. Bloomfield Cooling, Heating and Electric, Inc., offers a stand-by generator maintenance plan to take the stress of remembering to call for an appointment.  Residents of Cedar Grove, NJ can enjoy the benefits of our Generator Club Membership, where we offer two maintenance checks a year and one diagnostic visit. The maintenance plan includes an 8-point visual inspection. All services are performed by our certified technicians.
Generator Sales and Installations in Cedar Grove, NJ
In addition to providing repairs and maintenance to Generac home stand-by generators in Cedar Grove, NJ we also sell and install all major brands of stand-by home generators.  Power outages have been known to take place in northern New Jersey due to unpredictable changes in the weather pattern, and we all know that its definitely not fun being without power for hours or days. You would not want your household to suffer and be inconvenienced by a power outage. Which is why having a generator is really important. We do not install just any kind of generator, but premium quality generators with a good reputation. Our natural gas generators are from the well-known brands Generac and Honeywell. We will be able to recommend a suitable standby generator for your home, with different units providing 7kW up to 22kW of power. Our professionals are capable of carrying out all tasks related to the installation to ensure that the generator is working properly and operating. We test our generator installations to make sure that you are prepared for the next big storm! If you would like more information or a free in-home survey please give us a call today.
Useful Resources in Cedar Grove, NJ