Generator Repairs, Service and Maintenance Clifton, NJ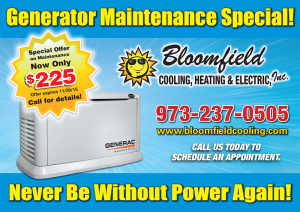 A steady supply of electricity is of crucial importance for any household. In recent years, in the state of New Jersey, homes have experienced  power outages during storms and other non-weather-related events. A power outage which elapses into a long period of time, is not only an inconvenience, but can be life threatening. Fortunately, when you utilize our services, we can make sure that your home remains supplied with electricity even in the case of a power outage of the main grid. With Bloomfield Cooling, Heating & Electric's generator repair service in Clifton, NJ, everyone can be assured that their existing generators remain in great shape. Our customers are able to manage independently when either a storm or a power outage from emergency situations occurs. With an experienced team that has the knowledge and equipment, a generator can be thoroughly checked and any potential issue can be correctly diagnosed and can be repaired in a fast and effective manner. Resulting in a fully operational system. To make sure your generator works, our team of certified technicians will simulate a range of situations that will require the generator's use. Therefore, making sure that the installation or repair and maintenance are done correctly before leaving your home.
Generator Sales and Installations in Clifton, NJ
Getting the most effective generator for all the needs of your household, is both easy and affordable in Northern New Jersey with our company. Our company offers complete home stand-by generator installations in Clifton, NJ. Our certified technicians will perform a free onsite evaluation to assist you with chosing the unit that will work best for you in  your home. Generators can vary in power from 7kW to 22kW. With this range, our certified technician will make sure that your household will be supplied with the correct amount of power for your needs during an emergency power outages caused by storms or any other unexpected event. Our team at Bloomfield Cooling, Heating and Electric, Inc., are trained and dedicated to ensure that your generator is working properly, including running a full test that simulates a real power outage. You, the owner, will be given a demonstration on how to operate your generator assuring you the confidence to be fully independent when it comes to using your new generator. This is why we feel that Bloomfield Cooling & Heating, Inc., is the ideal partner for all residents of northern New Jersey who wish to own a fully operational home stand-by generator.
Clifton, NJ Resources