Generator Repairs, Service and Maintenance in Wayne, NJ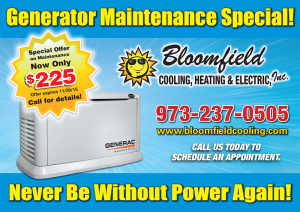 Wayne, NJ has survived many natural disasters and extended periods of power loss.  For some,  those experiences were minimized by having a neighbor like Bloomfield Cooling and Heating install a stand-by generator at your house. The investment of a stand-by generator can help minimalize an inevitable loss.  Maintenance and repair services for your stand-by generators are also a service provided. In Wayne, NJ these services are provided by Bloomfield Cooling and Heating, Inc. Angies List and Suburban Essex Magazine "Best of Essex" recommend our services.
Generator Sales and Installations in Wayne, NJ
With certified and experienced technicians, you can be assured that your stand-by generator is in best hands and you will receive quality service. Before you choose a company to handle service or maintenance of your stand-by generator, there many things to considered. First of all,  you must determine what type and size of stand-by generator you have so that you are matched to the right service; this assures that you get the proper professional you need in order to avoid inefficient services. Whether if its general maintenance, your generator won't start or it doesn't have enough power, you do not have anything to worry about because our professionals are well-qualified to handle all kinds of generator issues you may have. For equipment as delicate as a generator, you need to make sure you get the best service in order to avoid making the situation worse than it already is.
When choosing to purchase a generator, you need to make sure the quality is trusted and the equipment will serve your needs. In Wayne, you don't have to worry about getting something that is of low quality, because they have some of the best generators there is in the market. The location is perfect for people who live in the area, because they are not located in faraway locations. Its efficient because you won't have to stress about traveling long distances with your generator. There is also the installation that comes with the purchase of the generator. Our professionals come to your home upon your invitation and install the generator for you. This way you are sure it will be fully installed and well-functioning before we leave.
These services are very efficient and necessary. You will not be disappointed.
More About Wayne, NJ