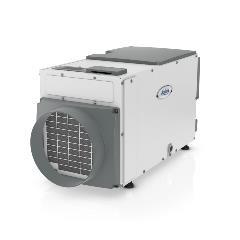 It doesn't take a flood from a storm or broken pipes to require the work of a dehumidifier to help dry out a basement. In general, basements are damp and humid, creating an environment that can harbor mildew or mold. However, it's not just obvious water problems in your basement that can cause issues in your home; excessive moisture builds up everywhere. Cooking, cleaning, and showering add moisture to your indoor air. That's why a whole-home dehumidifier is such an important element in your HVAC system.
A whole-home dehumidifier will improve your indoor air quality and your family's comfort for several reasons.
Excessive moisture can aggravate allergies, create musty odors, or show up as mold and mildew on surfaces. It is also a breeding ground for dust mites when the relative humidity exceeds 50 percent. Anyone with asthma or other allergies that are triggered by mold and mildew will be glad to have a drier home!
A home with chronically high humidity may also suffer, with warping or damage to wood trim and floors. Humidity is also trapped in fabrics (furniture, draperies, and carpeting) and may damage photographs—anything that is sensitive to high humidity.
Excessive humidity also causes the air in your home to feel warmer, which may lead you to crank up the air conditioning when it's not truly necessary. With an installed dehumidifier, you'll be less likely to overcool your home (which will help keep down your energy use and costs).
At Bloomfield Cooling, Heating & Electric, Inc., we install Aprilaire whole-home dehumidifiers as part of your heating and cooling system; it can also be installed as a standalone unit. It automatically removes the proper amount of moisture from every room throughout the entire house. With this type of humidity control you:
Reduce growth of dust mites, mold and other contaminants that can trigger allergy and asthma symptoms
Get rid of the cold, clammy air and mildew odors everywhere.
Protect your furnishings and structure against warping or worse
Enhance your home's energy efficiency – lower humidity means you'll feel cooler at a higher temperature
The model we install (Model #1850) can remove up to nearly 12 gallons of water a day—but let's hope you are never in the position to need that! This industry-leading, high-capacity whole-home dehumidifier is ducted to your HVAC system; it has an easy-to-use interactive display and is low maintenance. Your Bloomfield Cooling, Heating & Electric technician will check it and clean or replace the filter as needed once a year as part of your maintenance.
With warm weather ahead, consider installing an Aprilaire whole-home dehumidifier. You'll have less reason to crank up the AC, your family will be more comfortable, and anyone with sensitivities to moisture-induced contaminants will breathe easier—and more easily—with drier air throughout your home. Call us at 973-237-0505 to make an appointment.