Generator repairs, service and maintenance Basking Ridge NJ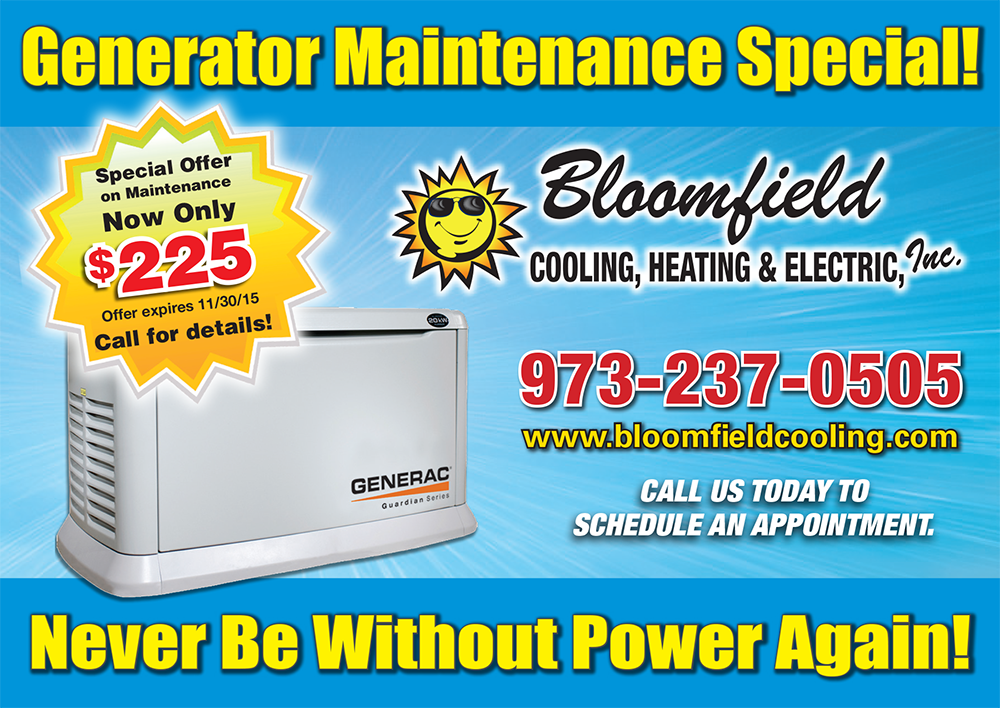 Generators are of great use in cities like Basking Ridge, New Jersey that suffer immense inconvenience due to frequent power outages caused by thunderstorms. Generators allow your harness the required amount of power whenever needed. This helps to carry on with daily lives effortlessly even during a power failure.
Generators should be selected, installed and maintained by professionals.
Looking forward to purchase a generator? Bloomfield Heating, Cooling and Electrical are the professionals you are looking for. Running strong since 1988, Bloomfield Electrical is a family owned and operated company with awards like the Super Service Award from Angie's List for the past ten years and the Best of Essex Readers' Choice Contest in the category of best HVAC and electrical company to their name. With a roster of happy and satisfied clients, Bloomfield Electrical is definitely the people's choice.
We, at Bloomfield Electrical undertake all works related to generators. We provide services from buying and installation of generators to their maintenance and repair work. An appointment is all you need to book.
We help you select the right generator for premises that is guaranteed to fulfil all your power requirements and give optimum benefits. We bring to you the best of generators with brand such as the Generac Power Systems. We also present you the opportunity to upgrade your stand-by generators.
Generator sales and installations Basking Ridge NJ
Since installing generators is a tough task if handled by an amateur, trust us, the professionals, to complete it for you. With an expert, experienced and well-trained team the installation will be no-bother, no-worry assignment.
Generators need to be serviced regularly to ensure efficient running. We offer maintenance services in timely intervals to give you optimum results.
We hire licensed and certified electricians who are specially trained to perform generator services. Albeit our company and staff are fully insured, we follow safety rules and regulations stringently. We use industry compliant, standard quality cables, equipment and other required material. We have a customer-friendly, reliable and trust worthy staff that is guaranteed to leave you satisfied.
We offer a 24 hour on-call facility to ensure our availability. We offer you our services at the most competitive prices. We ensure that our prices are reasonable and affordable.
Contact us to get a customized proposal. We assure you a service that will make you always turn to us in need.
More About Basking Ridge, NJ