Generator Repairs, Service and Maintenance in Verona, NJ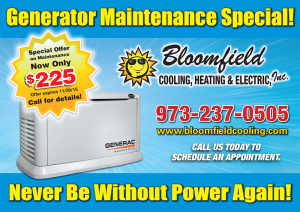 For many homes in Verona, NJ, the  inconvenience of having no electricity for an extended period of time is all too real. Most of the time, severe weather conditions are the culprit behind prolonged power outages. You probably know about this and that is why you already have a generator on standby in case such thing happens in the future. But have you recently tested it to see if it needs any repairs? Or, have you called a professional service for a maintenance check-up? We all know that checking the generator is best done before catastrophes happen.
Our company can help you with that. Our certified technicians ensures that your generator is in proper working condition.After the maintenance and repairs are done, we simulate a power outage in your home. This is to ensure that your generator is in proper working condition. Our certified technicians will explain the entire process to you and point out any danger signs. This is an effort to make you feel confident and give you the peace of mind that you wanted when you purchase your generator.
Generator Sales and Installations in Verona, NJ
Bloomfield Heating and Cooling, Inc. has been servicing Verona, NJ since 1986. We can provide new istallations, or maintenance and repairs on existing generators. You can choose from the industry's leading brands, such as Honeywell or Generac.
Our certified technicians will assist you in choosing the appropriate stand-by generator for your needs, our team of professionals can recommend for you a generator that is from 7kW – 22kW of power., they will install the generator, make sure that it is running properly and that you are confident on how to operate it.
Our technicians are fully certified by General Power Systems Inc. for installations and services. Our crew is trained to set up Mobilelink devices, and this is to make sure that you are always informed about the generator's operation, wherever you may be. Call your neighbor at Bloomfield Cooling and Heating, Inc.
More About Verona, NJ