Generator repairs, service and maintenance Stirling NJ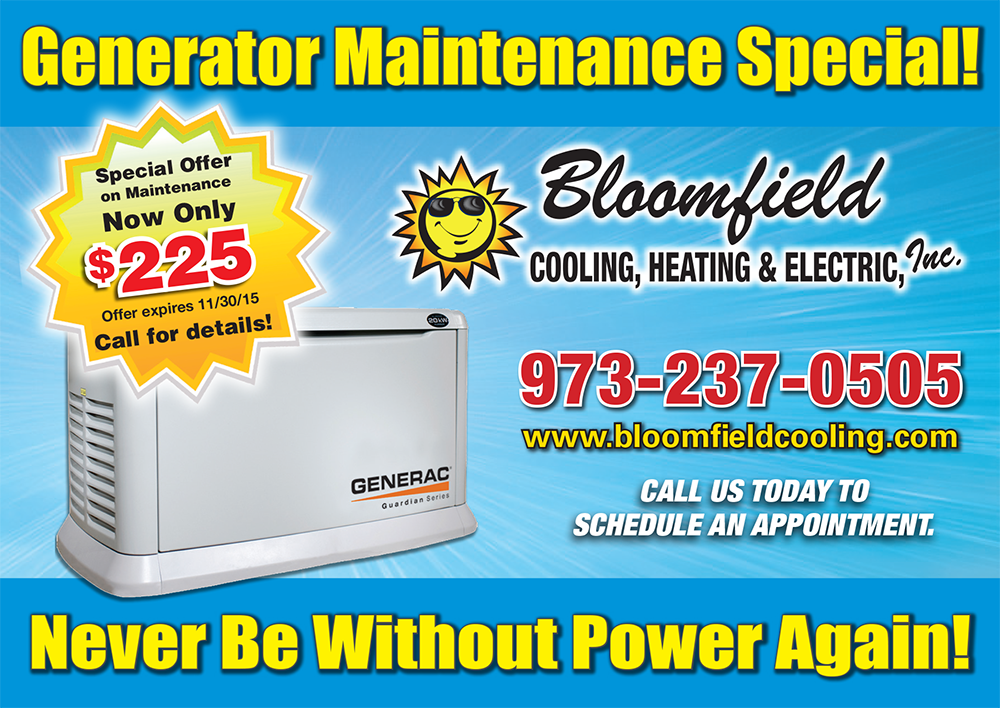 Electricity is a necessity in this day and age. Without it, it can pose as a tremendous hardship for you and your family. You need power for your laptop to finish work assignments, to heat your home in winter months, to keep your food from spoiling in the fridge, etc. That is exactly why you need a standby generator.
Our experienced electricians are available to help assist and make sure you home has constant access to power, regardless of the weather conditions. Whether a major storm or emergency situation has caused power outages, you can rest assured knowing our team of experienced professionals at Bloomfield Cooling, Heating and Electricity Inc. has you and your family covered. What's more is we won't leave you hanging once we install the generator – we provide general maintenance programs including technicians regular visits in order to make sure it is functioning properly, blackout safe and worry free.
Generator sales and installations Stirling NJ
For nearly 30 years, Bloomfield Cooling and Heating, Inc. has been the premier choice in standby generator installation here in Stirling, NJ. We Use Generac generators – an extremely reliable and trusted brand that's known for their longstanding performance. Unlike many other generators, the Generac standby generators that we use are renown for their ease of use, as well as their outstanding capabilities that are resistant to operational malfunctions. These generators will take care of any of your residential back up electricity needs effortlessly. Our trusted choice of Generac standby generators is just as trustworthy and reliable as we are. And considering our rave reviews, we are pretty reliable!
It has been an honor to have received the gold medal in 2014 and 2015 for the Best of Essex Contest, as well as the Super Service Award from Angie's List for 10 years in a row. We take great pride in our dedication to our customers, and treat them like the friendly neighbors they are. We assist you with everything in the backup generator process – from the installation, to the maintenance and more, so that your generator can last a lifetime. Bloomfield Cooling, Heating, and Electric, Inc., has been a family owned and operated business since 1987, and we intend on adding many more years of keeping people out of the dark in your Stirling, NJ home.
Stirling, NJ Resources