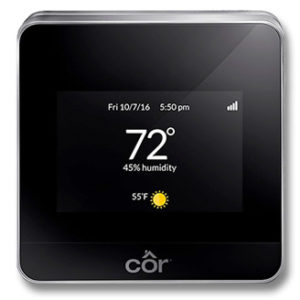 At Bloomfield Cooling, Heating & Electric, we're all about helping our customers boost their energy efficiency and save money on utility bills with the best equipment on the market. That why we are such big fans of Carrier's Côr™ C smart thermostats. These Energy Star®-certified thermostats enable homeowners to control their home's temperature and energy use from anywhere—and maximize their HVAC system's efficiency.
The sleek thermostat is a fully programmable seven-day unit that:
Has an easy-to-use full-color touchscreen (similar to a smartphone)
Is a fully connected, Wi-Fi® capable, smart-home unit
Comes equipped with energy savings intelligence and reduces your energy use. In fact, according to Carrier, homeowners who install Côr™ thermostats save an average of 20% on their heating and cooling energy costs.*
Smart technology. Because Côr™ is "smart," it learns your family's comfort preferences and can manage it all for you if you wish. Its features enable the thermostat to adapt beyond manual programming for greater efficiency. For example, it can make modifications to your home's temperature control based on outdoor weather conditions. The thermostat can adjust indoor humidity It even gives you your local four-day weather forecast. Plus, Côr™ automatically downloads the latest software updates for all models to ensure your thermostat is always performing at its best.
Connectivity. You can control your settings remotely via the internet and connect and check in on your system—from any room in the house or wherever you happen to be—with the free mobile app for Apple® and Android™ devices To enhance your "energy IQ," you can log into the web portal for detailed reports on your home's energy consumption to help you make smarter decisions about your optimal temperate control settings and schedule. It even provides customized energy-saving tips based on your usage and environment. It's all part of creating a more connected home.
Flexibility. Côr™ is compatible with many brands of HVAC systems and for homes with a Carrier heat pump and furnace, the device's energy-smart design can stretch your energy dollars further by acting as what's called a Hybrid Heat® system. Your Bloomfield Cooling, Heating & Electric technician can explain how that works to save on fuel consumption.
As an added bonus, as your Carrier Côr™ dealer, Bloomfield Cooling, Heating & Electric also connects to your unit to receive reports on your system in order to detect problems proactively, for remote troubleshooting, and to determine if maintenance is required.
We can install a new Côr™ smart thermostat any time, so give us a call at (973) 237-0505. It installs easily and we can do it as part of a routine maintenance appointment or service call.
*Based on a 2012 third-party study comparing Carrier® Côr™ technology to the estimated cost of a non-programmable thermostat set to 72°F at all times.