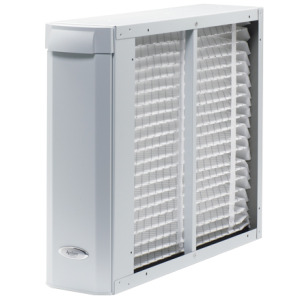 Are you aware that the air inside your home can be damaging your health?  According to studies performed by the EPA, indoor air pollutants maybe be 2 to 5 times (in some severe cases more than 100 times) higher than outdoor pollutant levels.  When you factor in that 90 percent of your time is spent indoors, your exposure to indoor pollutants grows exponentially. 
The air inside your home is filled with:
Mold spores
Pet dander
Bacteria
Pollen
These can cause a variety of health issues, including asthma and other respiratory problems.
Bloomfield Cooling, Heating & Electric, Inc.  can help you combat these air impurities with the installation of an Air Purifier.  Air Purifiers are installed as part of your current central Air Conditioning or Forced Hot Air system to remove polluted air from your whole house.
Bloomfield Cooling, Heating & Electric, Inc. will install an Aprilaire Model 2210.  The Aprilaire Air Purifier Model 2210 is best at removing moderate allergies, reducing dust build-up and prolonging the life of your heating and cooling equipment.
Why suffer from airborne pollutants, when you can remove them for good? When Bloomfield Cooling, Heating and Electric, Inc. installs an Aprilaire Air Purifier:
98% of visible airborne dust and other large particles are trapped
At least 97% of airborne pollen-sized particles are permanently captured
76% of viruses are removed
You are provided with more than 10 times the filtering media used in a standard 1″ furnace filters