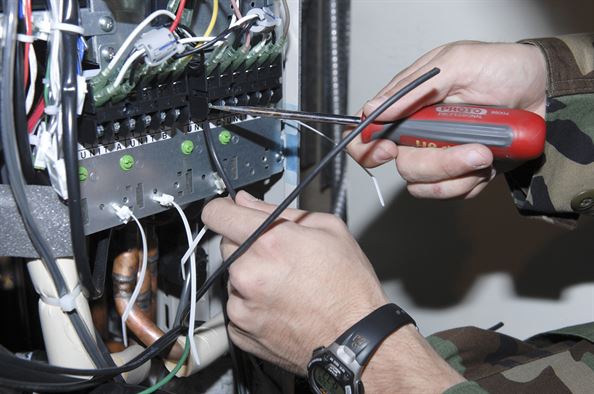 Installing a high-quality heating and air conditioning (HVAC) system in your home is the first step to improving indoor air comfort. The second step: make sure that HVAC system is running properly with a service agreement or maintenance plan.
Having the appropriate service agreement in place helps to ensure your heating and air conditioning system is running at its best; it also helps detect and remedy problems before they lead to breakdowns. Bloomfield Cooling, Heating & Electric offers a range of plans specific to various types of systems as well as prepaid agreements for a specific set of services.
Benefits of an HVAC service plan
A service plan saves you money. You'll know up front how much the routine service call costs, and depending on the service level you sign up for, you'll receive discounts on certain parts, diagnostic visits, and labor on repairs. Plus, routine maintenance avoids costly emergency visits and repairs.
A service plan provides you with documentation. You'll have an audit trail that shows what was checked, problems that were noticed, and remedial steps taken for each visit.
Regular service heightens system efficiency. These days, consumers seek the more energy-efficient HVAC units available—and they want to keep their systems running at peak performance.
Regular service extends your system's lifespan. Protect your investment by taking care of issues or make repairs before they cause a breakdown.
HVAC service tips:
1: Ask your HVAC contractor if the company offers maintenance plans for a variety of heating and cooling systems: forced hot air, air conditioning, steam boilers, and hot water boilers. You need to be sure the technicians know how to work on your particular unit or, if you upgrade or make a system change, that the company will be able to service your new equipment. You can read about the different plans we offer at https://bloomfieldcooling.com/maintenance-plans/basic-information/.
2: Make sure your HVAC contractor is sending technicians who are not only well-trained but who are also certified by NATE, or North American Technician Excellence. At Bloomfield Cooling, Heating & Electric, all our technicians are NATE-certified or are working toward their certification.
3: We invite readers to take advantage of our spring AC tune-up special: save $50 on the visit by May 31, 2019. Details are at https://bloomfieldcooling.com/specials/air-conditioning-tune-up-special/. If you have a standby home generator, we strongly recommend a service agreement for that critical piece of equipment as well.