Why a Ductless Cooling & Heating System Might be the Right Choice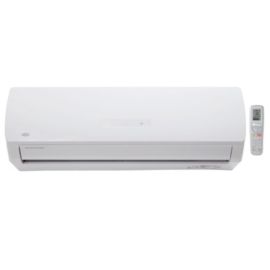 You live in a beautiful older home with thick plaster walls. Or perhaps your home is historic in nature. Running ductwork for a central HVAC system is probably not the ideal heating and cooling solution for your home. In those cases, ductless HVAC systems are a great choice. These are excellent alternatives for older homes in which running ductwork is difficult, including homes without attics or the right closet space to do so.
Also called mini-splits, these are compact, energy-efficient systems that focus on individual rooms. (The "split" is because there are separate indoor and outdoor units). They are easy to install, very flexible, and energy efficient. You may have seen these systems in restaurants, houses of worship, retail establishments, or offices—and if you've traveled to Europe, where these systems are popular, you're likely to have seen them in many places and spaces.
How ductless HVAC systems work
The system uses two-way heat pump technology to distribute warm or cool air, and it does so much better than a traditional electric heater. has two components, an indoor air-handling unit and an exterior condenser or compressor. These variable speed compressors use inverter technology to constantly match the heating or cooling load. There are also refrigerant lines running between the two units, one to deliver energy and the other to remove condensate.
Unlike central heating systems, there isn't any on/off cycling, so there are no uncomfortable temperature variations or high energy consumption. They come with a remote control to program the desired temperature for day and nighttime settings.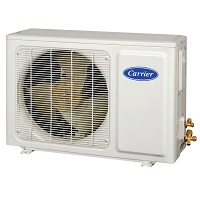 Benefits of ductless heating and air conditioning
They are cost effective to install and run. Because there is no ductwork to fabricate and run through the house, and no walls to open or registers to install, the installation is much faster, and the project less expensive than a traditional central HVAC system. In many cases, our technicians can install a mini-split system in one day.
Their sleek profile enables these units to be mounted anywhere on a wall or the floor. They can also be suspended from the ceiling or mounted into a drop ceiling in some cases.
Ductless systems deliver more even heating and cooling because they are hyper-zoned to a specific space. This leads to lower energy bills.
Ductless systems have great seasonal energy efficiency rations (SEER). Plus, the inverter technology in these systems draw very little electrical current.
They can be used to supplement a single-zone electric system in a smaller home.
Up to eight units can run off one compressor, bringing more focused heating and cooling to many spaces. The warm or cool are is distributed evenly and efficiently for great indoor comfort.
The systems are very quiet.
Ductless HVAC systems are also great for heating or cooling an addition, basement space or finished attic, or a room you don't use occasionally. Why pay to heat or cool a room that's rarely occupied?
At Bloomfield Cooling, Heating & Electric, we are a Carrier authorized factory dealer and install Carrier ductless systems, one of the best in the business. Our professionals can explain how these systems work in more detail. To find out more, contact us at info@bloomfieldcooling.com or (973) 237-0505 to set up a free consultation.